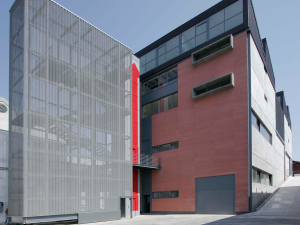 In the hart of the Caproni historical complex a new building has been built up accordingly with the modern interpretation of the "Shed" industrial architecture from the last century Photos of the building, layout of the area.
The building is reported on "GIORNALE DELL'ARCHITETTURA N.54 SEPTEMBER 2007 at page 22 between the month's announcement "Industrial Building And Tertiary In Milan".
Realized almost entirely with prefabrication technology, the building is part of the Ex Caproni Industrial Complex, it's date back to the beginning of the last century in the Linate area (ex Taliedo). Thought as an extension of an old style industrial building, long and narrow shaped, the building has a mixed destination and is developed in four levels.
The first one is occupied from the new RAI Studio's storages; the second one from the RAI's canteen; the third one is set in four lofts and a hanging garden; others four lofts are placed at the fourth floor over the hanging garden connected one to each other by steel foot-bridge.
The roof is made by four span "sawtooth", typical of industrial building.
Every loft of the fourth floor included a steel and wood mezzanine floor with a private terrace between the shed.
This building has been nominated to the National Architectural III Edition Award for the young architects "EDIFICIO INDUSTRIALE E TERZIARIO A MILANO" 2006.
Designer and site engineer Prof. Architect Andrea Di Franco.