We are a real estate company that owns several properties in the area of "Via Maecenate 76" in the district of the ex Caproni factory in Via Mecenate in Milan.
NUOVA  NICOMA  SRL
Legal Office Via Abbondio SanGiorgio 12  20145  Milan
Operative Office Via Mecenate 76/1  20138  Milan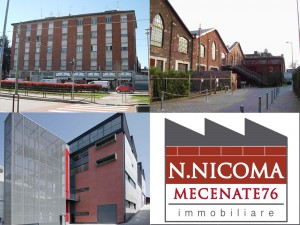 At the beginning of the last century in the Cascina Costa area, located in the Milan hinterland, Giovanni Caproni founded the "Officine Aeronautiche Caproni", one of the most important industrial complex in Italy.
The former Caproni buildings still stand in the area, not looking like a museum, but like relevant living monuments of the industrial architecture of Milan. Airplanes  are  not  manufactured  anymore,  while  a  lot  of    activities  (Architecture   Studies, Convention Rooms, Television Studios and Theatres) take place in the buildings.
Caproni area in part of "Comprensorio di Via Mecenate 76" including new and old building, where lot of activities such as, architects offices, art galleries, convention and congress areas, exhibition, publishing house, audiovisual archives, photographic studio, advertising agencies, representatives, multinational corporation, etc… take place. Since 2008 in the Milan RAI Studios has been produced reality shows like "L'isola dei Famosi", "X Factor", "The Voice of Italy", etc..